Can virtual learning democratize education?
Truth is most of what I use in my day to day now to make a living I learned online.
Hola Amigitos ,
Thank you for being patient last week was a blur, on the bright side I signed on a new client, participated in 2 virtual summits, 3 webinars, and did a whole bunch of interviews. On the downside, I wasn't able to send out my weekly newsletter pero ahi vamos. We keep building and not beat ourselves up.
So, If you're a nerd like me you probably were sad after college feeling like there wasn't more to learn. You're probably loving all these virtual events going online to learn and apply it asap. That's actually what got me into online spaces, I missed learning so I turned to the interwebs, and I recently realized how much that paid off.
I went from living on the poverty line to making close to six figures thanks to the internet. Now, I literally benefit from the power of democratized knowledge because of the skills I learned online! So it made me think….
if knowledge is wealth, can the internet be a tool to redistribute it?
Well, I'm here to test out and see …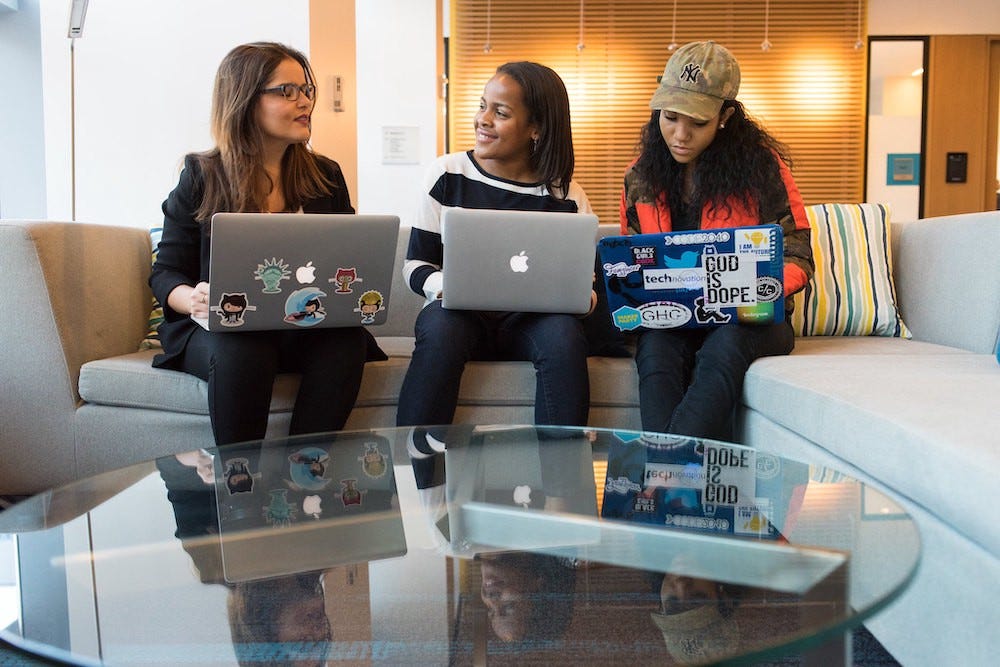 This week let's learn how the internet works and makes its money aka my career for the last 7 years. Let's begin:
Read: The Power of Habit
We are creatures of habit and I'm sure by now in quarantine you've probably gotten into a routine. So what does this have to do with the internet? Kind of everything when it comes to how you consume media online, targetted, and learn new skills. So if you've been like "I'm gonna do it now" and find yourself 8 weeks later … well here is how you hack it. Check the book out here & support your independent bookstores.
Watch: Explained on Netflix
If you love learning and don't feel like reading I invite you to binge-watch my favorite 20-minute binge-able docuseries with me to learn about everything from the stock market, bitcoin, coronavirus, orgasms, and astrology. It's a soothing science cited with voiceovers by your favorite celebs. If for some reason you don't have Netflix here is a free month.
Learn: How to Code for Free
I'm going to let you in on a secret, coding is not hard. She said whaaaaat? Yes, I did. It is literally writing an instruction book for computers to talk to each other and do the tasks you want it to. The even cooler part - you can build something out of nothing. Just a couple of commands aka instructions from your keyboard and BAM that idea for a website is REAL. And people will pay you top dollar for it while you work from your couch or beach, or anywhere with a wifi. So I made you a list of resources and upcoming boot camps all for FREE during the quarantine. Start now.
Hustle:
So I started off by telling you all how we had over 500 people tune for the Yo Quiero Dinero's Sidehustle Summit! It was awesome and I still have folks tagging me in what they started building. Please keep doing this it warms my little nerd heart. Guess what, it's not over! We recorded the whole thing and have it for you to watch and learn with over 5 hours teaching you how to build. Watch it all now.
Announcement:
I've been trying to build an online course to teach everything that I know to other folks because I want to change the world, nbd. This society is crap at most times but I know there are more people out there that want to build and will do it in a way that actually benefits and builds a better society.
If we can help others build by making their ideas a reality then that creates a ripple effect. I know that what I have to offer is worth thousands but I'm going to practice what I preach and just start, not be perfect but start.
Since I want to democratize education I am starting at an affordable price with this beta version at $20 a month and $100 yearly for a subscription.
I will be sharing my knowledge via membership with bi-weekly Sunday workshops starting May 17th with all content and resources shared via the Creating your Digital-Empire course, cause it's time y estamos #ReclamandoOro stolen from our ancestor's lands. So you ready, if so sign up here.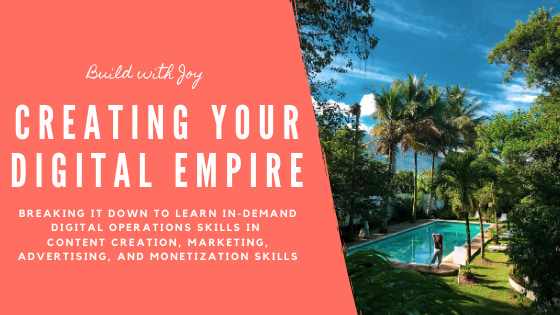 Let me know what you found useful and what you're looking to build and as always you can find me on the interwebs hanging out on Instagram and Twitter.
Hasta la proxima semana,
Joy Valerie Carrera